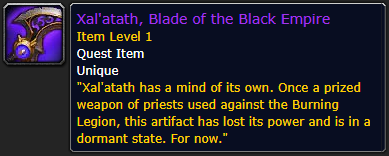 Greetings and welcome to the Warcraft Wednesday post!
Shadow Priest now has access to the Xal'atath quest line. It is one full week before the Crucible of Strom's raid drop and I am super excited to get started with it. However I am going to hold off until next week to get going with it because I want to do it just before I head in with my team.

I am excited for it, I just have a very busy week with work and other things that I have on my to do list.
What are you looking forward to with the upcoming raid?
If you would like to talk more about Dungeon's & Dragons, World Of Warcraft, MTG, books, TV, Movies, or any other topic please feel free to join the blog's discord server!
Join The Community here: https://discord.gg/UEnwEKx